February 10, 1910 – August 28, 1988
Paul Erskine Whitelaw, 1910-1988, was perhaps New Zealand's most unfortunate cricketer of the 1930s. Despite performing adequately in his two Tests against England, in the summer of 1932-33, Whitelaw was not again picked to represent New Zealand.
The highlight of his career came in 1936-37 when, alongside the multi-talented Bill Carson, the two batsmen put on 445 runs in just 268 minutes. This was a world record for the third wicket which stood for nearly 40 years. Whitelaw made 195 in that innings.
During a brief transfer to Morrinsville through work, Whitelaw became affiliated with the Hamilton Old Boys side, playing for the team in a few Howden Cup matches. A brief media stir occurred over whether this made Whitelaw eligible to play for South Auckland (later Waikato, later Hamilton).
September 3, 1905 – December 11, 1972
John Ernest 'Jackie' Mills, 1905-1972, was one of Auckland and New Zealand's most outstanding opening batsmen. The left-hander played seven Tests for New Zealand, replaced through illness just ahead of New Zealand's Test debut.
He returned for the second Test, making 117, sharing in a 276-run opening partnership with Stewie Dempster – a New Zealand record which stood for 42 years.
Mills' Test career drew to a close in 1933, although he continued to ply his trade for Auckland for a few more seasons.
In the 1940s, Mills represented Hamilton Old Boys and the Waikato representative side, having moved to Hamilton. He remained in Hamilton, passing away in 1972, not long after his opening stand record had been broken by Terry Jarvis and Glenn Turner.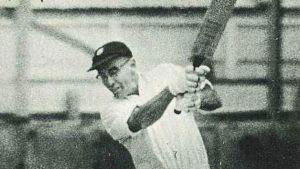 B.H. Pairaudeau. Photo / Gisborne Daily News
Bruce Hamilton Pairaudeau
Bruce Hamilton Pairaudeau, born 1931, was a permanent fixture in the Hamilton Old Boys side for decades, alongside the late Gary Giles.
A Guyanese – then called British Guiana – by birth, Pairaudeau made his First Class debut aged 15, making his first hundred at 16. Understandably, he was seen as a highly promising West Indian prospect, a feeling only enhanced by a hundred on test debut against India in 1953.
His Test career never reached those heights again, finishing with an average of 21.61 from 13 Tests. A combination of his international omission, alongside the continuing political unrest in his home island, led to him making the journey to New Zealand – for a second time, having toured here in 1956.
He went on to play extensively for Hamilton Old Boys, as well as Northern Districts, and after retirement became a highly regarded selector and coach. Lucky Weerasinghe played a few games for Ceylon, now Sri Lanka, before moving to Hamilton. He went on to become a Hamilton Old Boys stalwart. January 12, 1940 – February 5, 2014
Gary Victor Giles, 1940-2014, lived and breathed Hamilton Old Boys for decades.
Giles never quite secured the place in the Northern Districts he was capable of, playing 25 First Class matches over a 15-season period. He showed enough form in the mid-1960s to be called up to the New Zealand side which played England, being the 12th man for the Dunedin Test.
Giles played for Northern Districts until the mid-1970s, playing for Old Boys for more than a decade after that.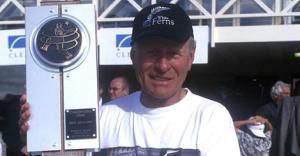 M.J.F. Shrimpton. Image / New Zealand Cricket
Michael John Froud Shrimpton
June 23, 1940 – June 13, 2015
Michael John Froud Shrimpton, 1940-2015, played ten Tests for New Zealand, over a decade span.
Although most of his career was spent with Central Districts, Shrimpton first played for Hamilton Old Boys in 1973-74, playing for Northern Districts the next season, and forming the heart of the Old Boys-Varsity with Bruce Pairaudeau and Gary GIles.
After retirement, Shrimpton went on to become a highly regarded coach. He had huge success with the New Zealand WHITE FERNS, and won the Bert Sutcliffe medal for services to New Zealand cricket.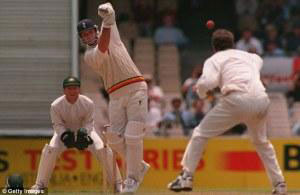 G.A. Hick. Image / Daily Mail
Graeme Ashley Hick, born 1966, was Zimbabwean by birth, and at one point a member of the national side, but went on to become a giant of the County Cricket scene, and an important member of the English limited overs side, while remaining an "enigma" in Test cricket.
Capable of destructive innings – his ODI mauling of Muttiah Muralitharan, and 405 for Worcestershire pay testament to that – Hick played two seasons for Northern Districts, setting virtually unassailable records for runs, centuries and averages in a season.
His time with Northern Districts was coupled with his appearances for Hamilton Old Boys, for whom he appeared irregularly but successfully.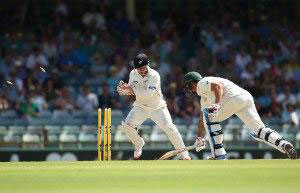 B.J. Watling. Image / ESPNCricinfo
Bradley-John Watling, born 1985, moved from South Africa to New Zealand as a ten year-old, allowing him to carve a niche for himself as one of New Zealand's finest cricketers.
Coming through the Hamilton Cricket system, playing at school for Hamilton Boys' High School, and then moving to Hamilton Old Boys, Watling immediately showed his promise. In the 2007-08 Howden Cup Final, Watling made 378 – possibly the highest score in a senior match in New Zealand, ever.
Performances for Northern Districts saw Watling gain an international call-up, and he made his Test debut in 2009. Since then, he's become the incumbent New Zealand wicket-keeper, while not quite able to gain the same regular slot in the one-day sides.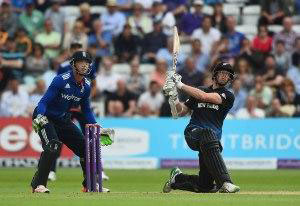 M.J. Santner. Image / ESPNCricinfo
Mitchell Josef Santner, born 1992, has been one of New Zealand's brightest young talents since first catching the eyes of the national selectors in 2014.
Although it took until the tour of England in 2015 to make his international debut, Santner immediately set about making himself one of the most highly regarded one-day cricketers in the country, earning himself a Test slot in the process.
His fielding has been wowing spectators on highlights reels everywhere and is showing the same talent that those around the Hamilton Old Boys camp have seen for some time.
Hamilton Old Boys Cricket Club
HOBCC now consists of five senior teams and more than a dozen junior teams, catering to all ages and abilities.